Group Fitness Classes In Sherwood
Combine Yoga And Bootcamp Training For Incredible Results In Our MUSAFY Group Fitness Program
Your path to better health and wellness starts right here.
At MUSA Martial Arts, we are proud to bring you a cutting-edge Group Fitness program known simply as MUSAFY. We're combining a series of incredible bootcamp workouts with cutting-edge Yoga classes to keep your body guessing and help you see incredible results.
Just fill out the short form on your screen to learn more about everything we have to offer in Sherwood.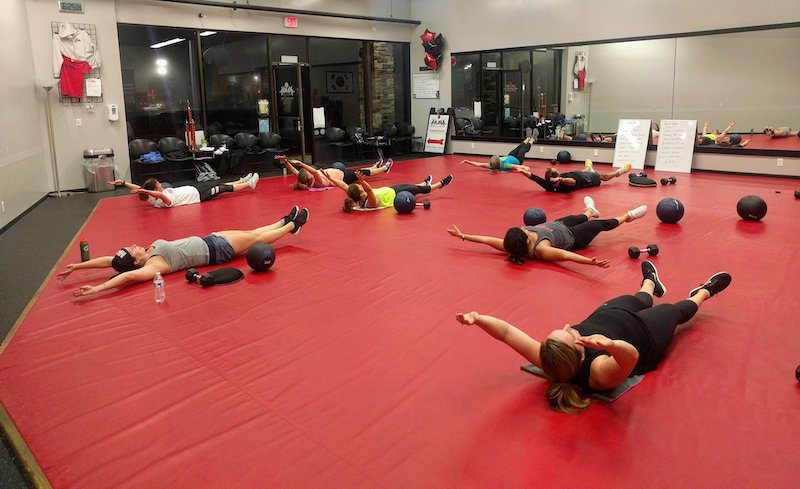 So How Does Our Group Fitness Program Work?
It's simple! Once a day, Monday through Friday, we drop the teachings of traditional Martial Arts and bring you a revolutionary fitness training program. Our Group Fitness Classes combine the high-intensity training of Bootcamp workouts with the active recovery of Yin and Vinyasa Yoga.
On Mondays, Wednesdays, and Fridays... you'll be challenged with ever-changing Bootcamp workouts that challenge every inch of your body. We combine...
Strength training
Cardio endurance
Fat burn and more!
....to help you get the most out of every workout. And every exercise is scalable - so all experience levels are welcome!
Then on Tuesdays and Thursdays... we'll slow it down just a bit and take you through a comprehensive Yoga session. We alternate between the practices of Yin and Vinyasa Yoga to relax your mind, improve your flexibility, and relieve the everyday stresses that plague us all. In no time, you can enjoy...
Total-body muscle toning
Improved core strength
Incredible mobility and flexibility
...It's the perfect way to start the day!
And Our Group Fitness Training Can Quickly Impact Every Aspect Of Your Day
We offer our Group Fitness Classes early each morning to kickstart your day and help you carry that energy with you in everything you do.
The feeling of completing a tough workout simply can't be replaced and we're sure that in no time, you'll enjoy the benefits at work, throughout your home life, and in every aspect of your daily routine.
At MUSA Martial Arts, you can take on:
Boosted energy levels
Reduced stress and anxiety
Improved sleep patterns
Incredible self-confidence
Don't Miss Out! Our Group Fitness Classes Have Something For Everyone In Sherwood!
Join us at MUSA Martial Arts today and take on the renowned system of MUSAFY! Our Group Fitness Classes in Sherwood are helping everyday men and women get the most out of their workouts and find sustainable success in no time.
Just fill out the short form on your screen to get started today!